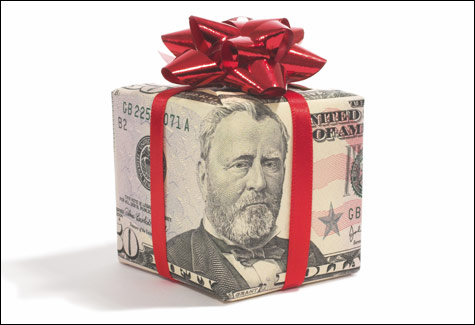 The Christmas spreee seems to be holding up. Is it really the season when investors pour in money or did these companies just get lucky? Whatever the reason, they're gonna be happy at least for 2008 with a big fat bank account.
It's a long list today. Thanks very much to TechCrunch , Mashable , and PEHub .
————-
Microsoft has won a major content and advertising partnership with Viacom, to the tune of $500 million over five years. The major deal points are that Viacom will use Microsoft Atlas (the byproduct of the aQuantive acquisition) for managing ads on its web sites, while the software company will license Viacom content (MTV, Comedy Central, Paramount Pictures, etc.) for various Microsoft products including MSN and Xbox 360.
–
BitTorrent-based video distribution service Vuze, which was previously known as Azureus, has raised $20M in a Series C round of funding led by New Enterprise Associates (NEA) and joined by existing investors Redpoint Ventures, Greycroft Partners, BV Capital, and Jarl Mohn.
–
Casual gaming startup PlayFirst has secured $16.5 million Series C in a round led by DCM that included original investors Mayfield Fund, Trinity Ventures and Rustic Canyon Partners. The new round brings total funding for PlayFirst to $26.5 million.
–
SheKnows is continuing to build up its network with its second acquisition in two months; LovingYou, a network for marriage and relationships, is the latest addition to the SheKnows family. Having just bought Soaps.com last month, SheKnows is ramping up its content reach through acquisitions and not partnerships.
–
Boston-based uTest has raised $1.7M to bring to market a crowd-sourced quality assurance (QA) marketplace and community. The service has begun recruiting testers in anticipation of its official launch, expected in early 2008.
–
Ribbit, a startup phone company in Mountain View, Calif., has raised a $10 million B round led by Allegis Capital, with KPG Ventures participating. Ribbit also has unveiled its Voice 2.0 platform.
–
BelAir Networks, an Ontario-based provider of mobile wireless broadband mesh network solutions, has received $17.5 million in financing led by new investors Export Development Canada and Wellington Financial. Existing investors BDC Venture Capital, Comcast Interactive Capital, McLean Watson, MMV Financial, Panorama Capital, T-Mobile Venture Fund, Trilogy Equity Partners, and VenGrowth Capital Partners Inc., and Ventures West Management also participated.
–
Acquia has gathered together a $7 million first round investment. The round was led by North Bridge Venture Partners as well as Sigma Partners and O'Reilly AlphaTech Ventures.