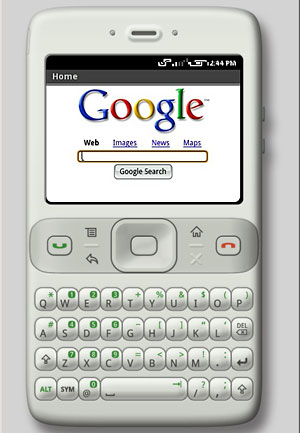 SAN FRANCISCO -(Dow Jones)- With Deutsche Telekom AG's (DT) T-Mobile USA Inc. preparing to ship out its first cellphones built on Google Inc.'s (GOOG) open Android platform later this year, wireless carriers are expecting an avalanche of innovation from users – and radical changes to what customers expect and demand.
Last year, Google announced that they will be venturing into the mobile space with a new open-platform mobile operating system they called Android which was earlier named by fans as the GPhone. However when the Gphone was confirmed to be an Operating system, the actual phone units have been a lot further from reality last year.
After a lot of prototypes and mobile conventions, android based handsets are getting closer to the consumer market. T-Mobile is the first to confirm that they will be releasing Android enabled handsets. Speaking at the Wireless Innovations 2008 conference, T-Mo's VP of broadband and new business division Joe Sims said he'd played with an early version of T-Mobile's first Android phone and that it would ship in the fourth quarter of this year.
Many wireless carriers also like Sims, were having doubts about Android-based phones but after a lot of testing and demo's, Many have also been impressed by the operating systems' innovations.